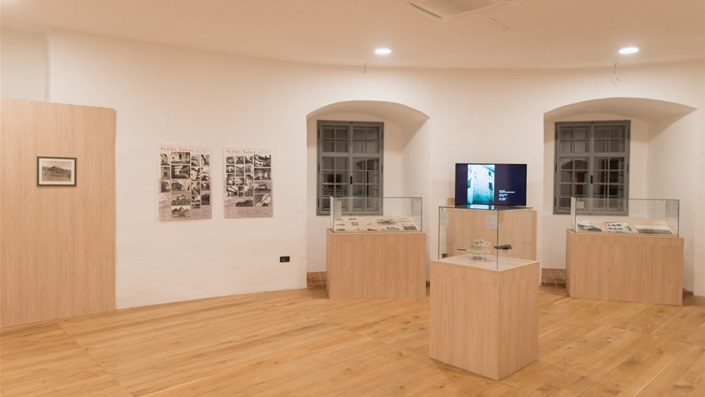 This exhibition presents the old town, its monumental architecture, refurbishment works made on the premises, and its purpose. Like wise, its owners and events that were in the castle during the 20th century.

Said period is characterised by decline of Veliki Tabor castle. But, on the other side, like with development of conscience of its great significance for the Croatian and world cultural heritage, and efforts that have been made to preserve this town for the future centuries.

Owners and principals of the Veliki Tabor castle have been constantly changed. The city had diverse, often inappropriate purpose, so duging the 20th century it was used as a prison, childrens home for war orphans, smoke house of meet factory "Sljeme" , and as catering facility of Agricultural cooperative Desinić. In the period between the two world wars, castle was property of famous Croatian artist Oton Iveković, to whom a picturesque view of the castle and the surrounding landscape was endless inspiration for his many works of art.

For the purpose of its protection, reconstruction and revitalization, in 1980s Josip Štimac was founded in the castle Regional museum, and later was established the Society of Veliki Tabor, wrom which he was president of. He has organized numerous events - fencing tournaments, exhibitions, art colonies, concerts, falkonry – photographs of all are presented on the exhibition. Starting in 1993. the castle is an integral part of the Museums of Hrvatsko Zagorje, which have soon conducted a comprehensive archaeological research, and managened the restauration of Veliki Tabor castle under the leadership of the Croatian restoration Institute from Zagreb.

Visitors of exhibition have the opportunity to see more than 80 exhibits - numerous postcards and photos, paintings from Oton Iveković, books, magazines, items from the Ethnographic colection of Veliki Tabor castle, collected by Josip Štimac, like other Museum objects that testify about life in Veliki Tabor in that period.

Inserts of the film "Peasant uprising of 1573" from the famous director and screenwriter Vatroslav Mimica, are displayed. The film was filmed in Veliki Tabor castle in 1975.

Many of the exhibited photographs and postcards, visitors still have not been able to see. Among them, seen for the first time, are photographs of president Josip Broz Tito, who visited Veliki Tabor with his wife Jovanka in 1968.

The author of exibition is curator Renata Dečman.
read more